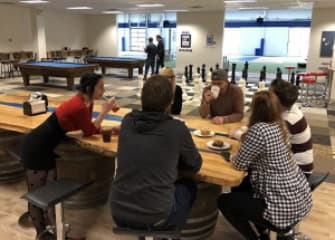 When South Jersey tech company Miles Technologies moved into its flashy new headquarters in June 2018, it more than doubled the space it had for its employees to work.
The old HQ was 28,000 square feet, while the new Lumberton building Miles owned measured at more than 168,000 square feet, with Miles occupying 63,000 square feet. And with a full-size basketball court, ping pong tables, desks built with Lego-style blocks and a giant lunchroom with TVs, the managed IT services company was primed to emulate the campus culture found at leading tech companies like Google and Facebook. Employees were able to have fun and still be productive in a space that was designed to be a second home, Marketing Manager Scott Hammer said. The large space and activity helped the company reimagine how teams could work together.
That changed when the pandemic hit in March 2020.
READ FULL ARTICLE HERE