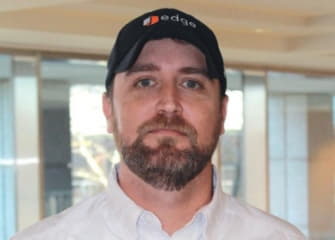 Shaun Comer, Director of Engineering for Edge
The management division of Edge, a full-service commercial real estate firm with offices in Washington D.C., Virginia, Maryland and Pennsylvania, has been selected to provide engineering services for a 16-building portfolio containing approximately 2.4 million square feet of space situated throughout Maryland and Virginia. The properties are owned and managed by Exeter Property Group, a real estate investment management firm that maintains headquarters in the United States and Europe. Shaun Comer, Director of Engineering for Edge will direct the facilities and engineering team for this requirement.
The Maryland properties are located in Baltimore, Belcamp, Columbia, Curtis Bay, Havre de Grace and Upper Marlboro. The Virginia assets are positioned in Ashburn, Chantilly, Herndon and Manassas. The building sizes range from a 38,000 square foot asset on Sullyfield Circle in Chantilly to a nearly 500,000 square foot asset on North Point Road in Baltimore.
"Our pro-active approach to engineering services for buildings in all asset classes resonates with property owners and investors," explained Shaun Comer, Director of Engineering for Edge Property Services Group. "This includes executing protocols with aging commercial office and industrial buildings to address issues with HVAC and mechanical systems to mitigate operating costs and extend the useful life of the asset. Especially during this time when property owners and tenants are paying extra attention to the quality and flow of air in buildings, our team is focused on implementing processes that assure healthy indoor environments."
Edge is a commercial real estate firm providing a full complement of advisory, leasing, investment sales, management, construction, property management and engineering services to clients throughout the Washington, D.C., Maryland, Northern Virginia, and Pennsylvania marketplaces. Founded in 2007, the company currently leases and manages more than 8.5 million square feet of commercial office, flex/office, industrial/warehouse, retail and mixed-use space. Visit www.edgecre.com.