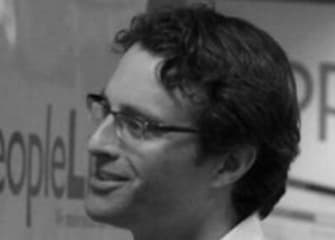 Kevin O'Nell
Why Entrepreneurism?
Tapping into the power of social selling
Kevin O'Nell is the CEO of PeopleLinx, a Philadelphia-based startup that drives social selling behaviors. PeopleLinx helps salespeople understand, navigate, and win customers through social networks such as Twitter and Facebook. The company's technology incorporates CRM (customer relationship management) tools, notifies users when to interact with prospects, and monitors team performance. Prior to directing PeopleLinx, Kevin served as COO for Ecount (later Citi Prepaid) and senior product leader at Capital One. He is also a senior advisor for MissionOG, a venture funding firm.
Kevin O'Nell spoke with Jeff Mack for this interview.

JEFF MACK: I'm Jeff Mack from Newmark Grubb Knight Frank, and I'm pleased introduce Kevin O'Nell from PeopleLinx. Kevin is the CEO, and PeopleLinx is headquartered here in Philadelphia. Welcome, Kevin.
KEVIN O'NELL: Thanks, Jeff.
How did PeopleLinx start?
PeopleLinx started in 2009. It was founded by two early LinkedIn employees. They were in the first hundred people at LinkedIn. What they quickly realized was that social networks could be used far beyond recruiting, and beyond LinkedIn. So, they left in 2009, started the company as a training company, and I joined in 2012 when it became a software company.
How does "social selling" differ from the traditional sales process?
Most people get the GPS analogy really well now, because we all use them on our cell phones and in our cars. At the end of the day what it means is social selling is really hard for people. People think that social networks are either not allowed by their corporations, or only for their children, or only to share pictures with their high school friends. In reality, social networks can be a great tool in the sales process to engage with potential clients and drive business through the cell phone. We often say that PeopleLinx changes the game by becoming an unfair advantage for salespeople. Today, people don't answer their emails. They don't answer their phones. We can contact each other through more ways than ever before, but people aren't responsive. It's a real challenge for salespeople. By leveraging social media and social networks in a really organized format, they can find ways to engage with their customers much more successfully.
You recently won a great deal of funding—how do you intend to use it?
The new funding will be used to grow the business, so it's a great vote of confidence from our investors: Osage [Partners], MissionOG, and Greycroft [Partners]. The money will be going towards the sales team and the engineering team. We're in the process of launching the fourth version of PeopleLinx, PeopleLinx IV, which will be unveiled the week after next. Our early investors had a thesis that social networks would be really important for B2B enterprise businesses. Specifically, Greycroft had a thesis about this, so they invested in Buddy Media on top of Facebook; they invested in Cloud on top of Twitter; and they invested in PeopleLinx on top of LinkedIn.
What are your expectations five, ten years down the line?
Five or ten years from now, I believe all salespeople will be using social media throughout their business day. My hope is that PeopleLinx can grow and be the go-to platform to coach people on how to leverage social media, and when to take the right actions to drive business through the funnel. I see it being used across all B2B businesses, as well as many small organizations.
Are there other companies you look to for inspiration?
Buddy Media's definitely a success story out there, and was really early on in social media, and of course acquired by Salesforce to leverage Facebook. I don't know quite that we're going to become the next Buddy Media—although we do have Michael Lazerow as an investor in PeopleLinx—but we do aspire to being as successful as Buddy Media on the B2B side among B2B sales reps.
Can you describe your relationship with LinkedIn?
PeopleLinx was founded by two LinkedIn founders and we worked very closely with LinkedIn for a number of years, through 2009 through 2013. In 2013, based on LinkedIn's changes to the API and our client's demands that we work more closely with their CRM providers, we separated our relationship with LinkedIn.
Connect with Kevin on LinkedIn
ABOUT NEWMARK GRUBB KNIGHT FRANK
Newmark Grubb Knight Frank (NGKF) is one of the world's leading commercial real estate advisory firms. Together with London-based partner Knight Frank and independently-owned offices, NGKF's 12,800 professionals operate from more than 370 offices in established and emerging property markets on six continents.
With roots dating back to 1929, NGKF's strong foundation makes it one of the most trusted names in commercial real estate. NGKF's full-service platform comprises BGC's real estate services segment, offering commercial real estate tenants, landlords, investors and developers a wide range of services including leasing; capital markets services, including investment sales, debt placement, appraisal, and valuation services; commercial mortgage brokerage services; as well as corporate advisory services, consulting, project and development management, and property and corporate facilities management services. For further information, visit www.ngkf.com.
NGKF is a part of BGC Partners, Inc., a leading global brokerage company servicing the financial and real estate markets. BGC's common stock trades on the NASDAQ Global Select Market under the ticker symbol (NASDAQ: BGCP). BGC also has an outstanding bond issuance of Senior Notes due June 15, 2042, which trade on the New York Stock Exchange under the symbol (NYSE: BGCA). BGC Partners is led by Chairman and Chief Executive Officer Howard W. Lutnick. For more information, please visit www.bgcpartners.com.
Jeffrey E. Mack, Executive Managing Director


Jeffrey E. Mack is a senior leader in Newmark Grubb Knight Frank's Philadelphia operation. Jeff has been a significant member of the commercial brokerage community in Philadelphia since 1979. He co-founded Smith Mack & Co. in 1984 and has continued to lease and sell more suburban office space than any other individual agent. He served as past chairman of the Philadelphia Board of Realtors, commercial and industrial division. NGKF acquired Smith Mack & Co. in 2012.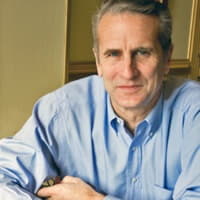 Edwin Warfield, CEO of citybizlist, conducts the CEO Interviews.
If you're interested in reaching CEOs, please contact edwin.warfield@citybuzz.co
Connect on LinkedIn