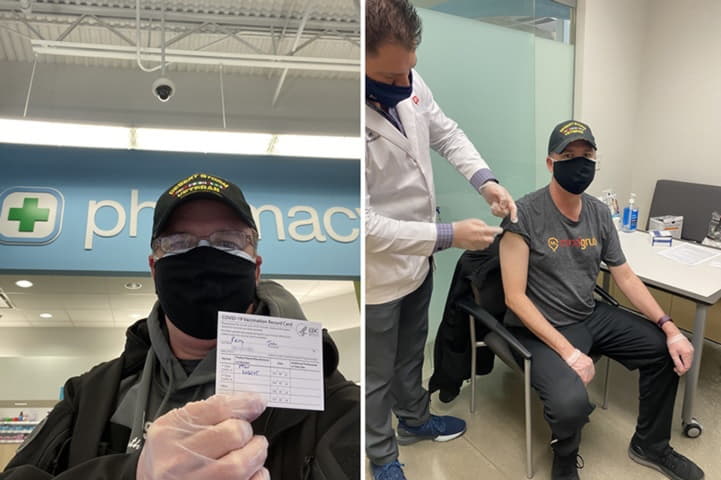 The arrival of COVID-19 nearly one year ago shook up the world and forced us all to make some major changes to our everyday lives. With the development and planned distribution of a COVID-19 vaccine, we have all begun to breathe a sigh of relief with the hope that things will soon get back to normal.
In an effort to support the efforts of the vaccine rollout, Carefirst has launched the "Better Together" campaign urging everyone to get vaccinated as soon as they are able. As part of this public health initiative, Carefirst is challenging organizations nationwide to pledge to encourage their local communities to receive the vaccine. Carefirst will also donate up to $1 million to community nonprofits on behalf of those organizations who take the pledge.
Mindgrub has taken the pledge not only to support the local vaccination efforts, but to show that as a leader in the community, we are dedicated to vaccinating our employees as well. The campaign began initially as a way to gain support for the vaccine in communities that may be skeptical of safety of the immunizations.
Mindgrub's Engagement Director John Rainey, who also heads up the healthcare initiatives at the company, was the first of our employees to receive the vaccine and is hoping that everyone at the company will be inoculated soon.
"Having served 8 years in the US Army and been deployed overseas, I've had many, many vaccines. This was a breeze," John says. "The shot was completely painless and your arm is only sore for about 12 hours, if at all; like the flu shot."
The importance for everyone to get the vaccine predates the COVID-19 pandemic. Previous immunizations have made life more sustainable (i.e. the eradication of diseases like smallpox and polio) and has decreased the mortality rate globally. It's also imperative to be vaccinated in order to get back to some sense of normalcy within business, travel, and just life in general.
"Getting up to date on your seasonal inoculations to include COVID-19 is simply a socially responsible item to check off your list every year," John says. "We all want to get back out and do business in person, socialize, and go on vacation. If you are healthy and eligible, I highly recommend getting your vaccine as soon as possible."
Mindgrub distributed a robust COVID-19 policy to all employees and Mindhub tenants in early 2020. Since then, the policy has been updated to include detailed procedures for masking, social distancing, disinfecting surfaces, utilizing shared spaces, and more. Pledging to support employee and community vaccinations is an extension of this policy and of Mindgrub's overall approach to the safety, health, and wellness of the entire local community.
To learn more about the Carefirst "Better Together" campaign, visit www.carefirst.com/bettertogetherpledge/.