It paid off for this Philadelphia couple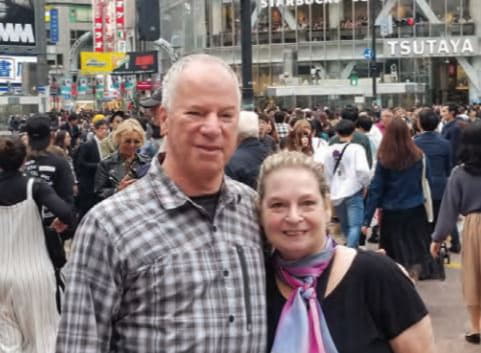 Maris Grove residents Ronnie and Frank Green love their spacious Kingston apartment home and the active, maintenance-free lifestyle. The globe-trotting couple, pictured during a trip to Japan, are now exploring sites closer to home and enjoying every minute
Ronnie and Frank Green are big planners. The former career counselor and engineer knew decades before they retired exactly how it was going to go.
After spending 30 years in Baltimore, they moved to Philadelphia to "enjoy the Philly life," as Ronnie puts it. "We like cities, and all they have to offer culturally and intellectually," she says. "We rented a beautiful apartment in a high-rise at 15th and Locust just blocks from the Academy of Music, the Constitution Center, and the Public Library. Everything was walkable. It was a wonderful five years."
During those years, the couple thought often about the longevity common in Frank's family. They wanted to be ready for every stage of their lives and decided that their next move would be to a continuing care retirement community (CCRC) like Maris Grove, the Erickson Living-managed senior community in Glen Mills, Pa.
Erickson Living is headquartered in Baltimore, so the couple was familiar with the company and its commitment to creating active communities where seniors thrive. After touring several outside of Philadelphia, they decided that Maris Grove offered them the best mix of location and lifestyle.
Ronnie acknowledges that the decision surprised some of their friends. "They said, 'You're too young for a CCRC,' and my response was, 'Why would you wait to move?' Frank and I wanted to enjoy the amenities and activities now and not worry about anything as we aged," she explains. "Anything can happen at any time, and at Maris Grove, we're prepared. I wish more people understood what a great plan this is." She adds, "I think those who wait miss many years where they could live life to the fullest before issues arise—and they will arise. Our thinking was, the kids are launched, we have financial security, so why not enjoy it with other people at the same stage of life?"
There was a practical aspect to their thinking, as well. "We will never have to move again," she notes, "and it only gets harder as you get older. We got rid of our old things and bought new furniture that reflects who we are and how we live now. We had so much fun planning this together."
The Greens love their Maris Grove apartment home. They chose the Kingston model, a two-bedroom, two-bath with a balcony and a gorgeous view. They use the second bedroom as a den/guest room/workshop where Frank restores old jukeboxes.
"Frank is an engineer, so he loves solving problems, and 60-year-old machines have problems," Ronnie says with a chuckle. "We have an old Wurlitzer in 'Frank's garage,' as we call the second bedroom, and a vintage Seeburg in the living room. We turn it on and dance. It's such fun."
Fun is the name of the game for this couple, who love their home's location at Maris Grove and the possibilities for adventure outside the gates. They love exploring the charming small towns that dot the Brandywine Valley. "The history and culture are incomparable," she says. "And Philly is just a short drive if we want a taste of city life."
Ronnie regularly encourages her friends to discover what she and Frank have found at Maris Grove. "I love this apartment more than any place I've ever lived," she enthuses. "We're having a ball," she says, "and are absolutely thrilled with our decision. If anyone were to ask me, I'd say do it now! What are you waiting for?"
To learn more about Maris Grove's vibrant senior living lifestyle, visit MarisGroveCommunity.com.
About Maris Grove: Maris Grove, one of 20 continuing care retirement communities managed by Erickson Living®, is situated on a scenic 87-acre campus in Glen Mills, Pennsylvania. The not-for-profit community of more than 1,900 residents and 750 employees is governed by its own board of directors, affiliated with National Senior Campuses, Inc., who provide independent financial and operational oversight of the community. Additional information about Maris Grove can be found at MarisGroveCommunity.com.
Written by Dorrie Anshel