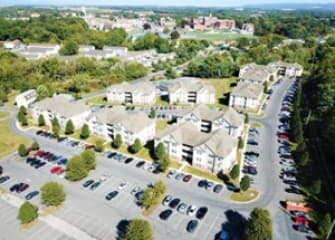 Marcus & Millichap (NYSE: MMI)and RealINSIGHT Marketplaceannounce today the sale of Creekside Court Apartments, a 120-unitstudent housing apartment propertylocated in Shippensburg, PA, according to Sean Beuche, PA broker of record and regional manager of the firm's Philadelphia office.
Craig Dunkle and Mher M. Vartanian, investment specialists from the Dunkle Group of Marcus & Millichap's Philadelphia office, had the exclusive listing on this transaction. "Utilizing RealINSIGHT Marketplace's robust auction marketing platform, we were able to create acompetitive market for this student housing property amid a global pandemic, ultimatelysourcing 12 qualifiedbidders to compete for the benefit of our sellers" says Craig Dunkle. "We're grateful to have had the opportunity to sell the property for an institutional client and deliver a very attractive asset to an exceptionally qualified buyer. We'd like to thank both the buyer and the seller for seamlessly completing a complicated sale in a knowingly difficult environment"
"Our collaborative partnerships with our brokers is a key piece in our proven process, and Creekside Court was no exception", Neil McKenna, Senior Vice President of RealINSIGHT Marketplace commented. "From the outset, we faced unique challenges such as lower occupancy rates with students following a virtual learning format and opting out of housing near the university. Matching out research-driven marketing methodology with the expertise of the Marcus & Millichap team, we were able to tap into a rich buyer pool on local, regional, and national level. Ultimately, this increased competition and maximized the asset sale price".
Creekside Court Apartments is located at 2 Morningstar Lane in Shippensburg, PA, near Shippensburg State University of Pennsylvania. "Executing a competitiveonline auction marketing processfor an off-campus student housing assetdespite major market disruptions is a strong achievement. This transaction demonstrates the strength of the asset's fundamental value." says Mher Vartanian. The student housing apartment building is newer construction having been built in 2009. It is currently under new management and features below market rents, which will provide an upside in revenue for thepurchaser for years to come.
About Marcus & Millichap (NYSE: MMI)
With over 2,000 investment sales and financing professionals located throughout the United States and Canada, Marcus & Millichap is a leading specialist in commercial real estate investment sales, financing, research and advisory services. Founded in 1971, the firm closed 9,726 transactions in 2019 with a value of approximately $50 billion. Marcus & Millichap has perfected a powerful system for marketing properties that combines investment specialization, local market expertise, the industry's most comprehensive research, state-of-the-art technology, and relationships with the largest pool of qualified investors. To learn more, please visit: www.MarcusMillichap.com.
About RealINSIGHT Marketplace
RealINSIGHT Marketplace is the premier online platform for buying and selling commercial real estate assets bringing buyers, sellers, and brokers across the globe. The platform is led by a team of dedicated commercial real estate experts who bring over $11B in online real estate sales experience, apply a service-forward approach, and tailored and proactive marketing strategies, RealINSIGHT Marketplace leads the industry with its 80% sell-through rate of transactions and has completed over $2.9B in transactions since its inception in early 2017. To learn more, please visit: www.rimarketplace.com