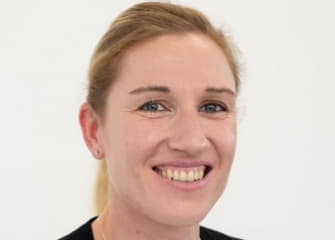 Sally Laycock
LONDON & NEW YORK--(BUSINESS WIRE)--Sally Laycock has been appointed as the new CEO of Incubeta UK, the independent digital marketing services group. Laycock will succeed Luke Judge, who has headed up the company as US and UK Group CEO for the past 5 years. John Cawdery who was appointed as US CEO in September last year will continue to lead Incubeta in North America.
Laycock joined Incubeta in 2008 as Financial Controller and became Chief Financial Officer UK and US in 2017 overseeing all financial and business operations. Working alongside Judge, her operational expertise and intimate knowledge of the business has been instrumental to Incubeta's success and growth.
Under Judge's leadership, the UK and US business grew from 45 to 240 people as the successful UK partnership with Google was grown and then expanded into the US, the Incubeta brand was relaunched globally and amplified to bring its specialist brands closer together, new advanced marketing solutions were introduced, and the Google-certified advertising creative specialists, Joystick Interactive, were acquired.
Judge will now be handing the torch of UK CEO over to Laycock who will be tasked with continuing to drive Incubeta's growth trajectory through the innovation of services and products. Laycock will also join the global Incubeta steering committee to provide active input for the group direction. In the last twelve months the company has gone from strength to strength, achieving double-digit year-on-year profit growth. With a strong start to 2021 the success looks set to continue.
Sally Laycock, CEO of Incubeta UK comments: "Luke has been instrumental to the success of Incubeta in the UK and the US. Not only has he been an outstanding leader and CEO, he is also an incredible colleague, friend and a truly amazing and humble person. Having worked side by side with Luke for many years, I have certainly learnt from the best and I am honoured the baton has been passed on to me.
"I want to ensure we carry forward the legacy of a strong people culture which has been built up over the years with a particular focus on creating an environment where people feel comfortable to be themselves at work. This is something I am absolutely passionate about. Over the past 13 years I have watched employees at Incubeta thrive and progress. I'm so proud of what we have all achieved together and I am excited to be at the helm to ensure this continues."
Incubeta operates across 14 countries with offices in cities including London, New York, Los Angeles, Madrid, Sydney and Cape Town. In 2013 the highly successful Net Media Planet (NMPi) was acquired, which established significant growth for Incubeta as it boosted its advertising offerings. The subsequent acquisition in 2016 of forward-thinking marketing technology specialist DQ&A, extended the company's geographical and product growth. This was followed by the acquisition of market leading creative specialist, Joystick, in 2018. Through these acquisitions, Incubeta offers clients a full suite of unrivalled services connecting Media, Technology and Creative.
Luke Judge, CEO of UK & US comments: "It's been a privilege over the last 13 years to be a part of Incubeta's success and achievements. I am immensely proud and grateful of the amazing team that works incredibly hard to make the company what it is. I know Incubeta UK is in the safe, capable and caring hands of Sally who will continue to do great things and lead the company with positivity and rigour. As CFO she has been a rock by my side, always a great source of knowledge and advice, helping me navigate difficult decisions successfully, and more than anything we have had a lot of fun along the way.
"I shall miss my amazing colleagues, clients and partners who have become true friends over my years at Incubeta. I have immense gratitude for them, and wish them all the best of success in the years ahead. Now is the right time for me to explore new opportunities and take on new challenges in what I think will be some very exciting years ahead."
Lars Lehne, Group CEO of Incubeta adds: "Luke has done an amazing job of leading Incubeta to the success it is today in the UK and US markets. He will be sorely missed by all. Although my time spent with Luke has been short I have the utmost respect for him and what he has achieved for the company, especially with significantly growing the business during what was undoubtedly one of the most challenging years for the industry, and setting it up for success in the year ahead.
"As the digital landscape continues to evolve and become more mature, Sally's extensive knowledge and experience will drive Incubeta to achieve its objectives and further its growth. I'm very much looking forward to working with Sally in her new role as UK CEO and witnessing the great things she will achieve as this new chapter begins."
About Incubeta:
Incubeta is the union of three market leading specialists in Technology, Media, and Creative – DQ&A, NMPi, and Joystick respectively. By seamlessly integrating these three specialisms, Incubeta puts the ownership and control of the customer experience back in the hands of the advertiser, both brands and agencies.
As the largest and longest established GMP sales partner in EMEA and APAC, Incubeta has proven through working with top-tier brands that they are leading specialists in helping advertisers tackle complex projects such as in-housing, dynamic creative, data activation, real 1:1 marketing, and industry-specific segmentation modeling. Incubeta is primed to help advertisers deliver complex use cases across Google's Maturity Framework and Menu of Services.
Find out more at: incubeta.com