Joseph R. Hill
Lee & Associates of Eastern Pennsylvania, a fully-integrated commercial real estate brokerage and management firm, has announced the promotion of Joseph R. Hill to Vice President, Capital Markets Group. Mr. Hill brings more than nine years of diversified commercial real estate experience to this new position and has been associated with Lee & Associates since 2019.
In his new role with the company, Mr. Hill will be responsible for underwriting, marketing and due diligence functions for clients engaged in the acquisition or sale of commercial industrial buildings, office properties, development sites and related asset classes. This includes performing market research and valuation analysis to achieve successful outcomes for Lee & Associates clients. Mr. Hill will also take an active role in new business development initiatives.
Throughout his commercial real estate career, Mr. Hill has been involved in the sale or financing of more than $2.25 billion worth of real estate transactions. Significant deals include the sale of the 2.8 million square foot Mid-Atlantic I-95 Industrial portfolio for more than $201 million; the sale of 1818 Market Street, a 1.0 million square foot office tower in the Philadelphia central business district for $185 million; and the sale of 1900 River Road, a 116-acre industrial land site for $110.5 million. He has represented companies such as TA Realty, STAG Industrial, High Street Logistics Properties, Black Creek Group, Brandywine Realty Trust, Washington Capital Management and Dermody Properties, among others.
Mr. Hill previously worked as a Senior Financial Analyst for the Cushman & Wakefield Capital Markets Group, as well holding positions with CBRE and SC&H Group. He earned a Bachelor of Business Administration degree in Finance from American University, where he played on the Division I men's basketball team.
"Joe is well known as the consummate real estate professional and is universally respected for his integrity, work ethic and depth of relationships throughout the industry," explained Bob Yoshimura, Principal, Capital Markets for Lee & Associates of Eastern Pennsylvania. "His career has been punctuated by executing several high-profile sales transactions, and this promotion reflects our extreme confidence in his abilities and value to our organization. He is a consistent producer with the demonstrated ability to raise capital and execute transactions that bring value to his clients."
Celebrating more than 40 years of leadership excellence in commercial real estate, Lee & Associates is the largest broker-owned firm in North America with locations across the U.S. and Canada including California, Colorado, Arizona, Florida, Georgia, Idaho, Illinois, Indiana, Kansas, Maryland, Michigan, Missouri, Nevada, New Jersey, New York, North Carolina, Ohio, Pennsylvania, South Carolina, Texas, Toronto, Ontario, Vancouver BC and Wisconsin. With more than 1,000+ brokers nationwide, Lee & Associates provides a wide range of specialized commercial real estate services on a local, regional and national level.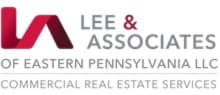 Lee & Associates of Eastern Pennsylvania, LLC (LAEP) was founded in 2015. The Capital Markets Group, led by Bob Yoshimura and Joseph B. Hill, Jr., joined in 2019. The LAEP Capital Markets Group has over 100 years of combined experience and have established themselves as one of the preeminent teams in the region. The Yoshimura/Hill Capital Markets Group has completed $8.0 billion of transactions in their careers. For the latest news from Lee & Associates, visit lee-associates.com/pennsylvania or follow us on LinkedIn, Facebook, Instagram and Twitter