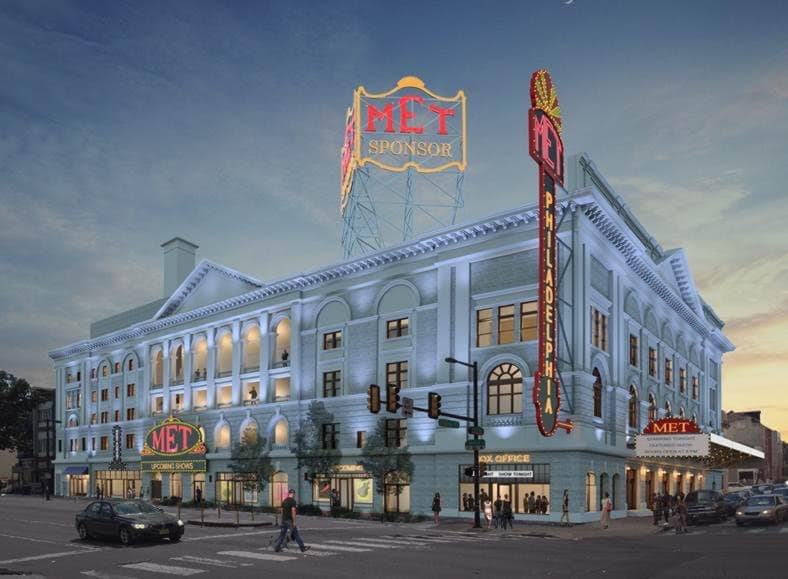 The Met Rendering. Photo credit: Atkin Olshin Schade Architects
D2 Capital Advisors, the transaction advisory affiliate of the D2 Organization, has successfully secured $56,000,000 in construction financing for the Philadelphia Metropolitan Opera House (The Met), a 39,200 square foot theatre which will be redesigned as a live entertainment venue on North Broad Street in Greater Center City, Philadelphia. The financing was secured from Fulton Bank, PIDC, Procida, and Enhanced Capital on behalf of developer Eric Blumenfeld of EB Realty Management.
"D2 worked to partner us with the right lending sources for The Met that not only understood our vision for the project and could fund construction but also was interested in participating in the tax credit financing," Blumenfeld said.
Once it opens in late 2018, the redeveloped opera house will be operated by Live Nation as the largest concert hall in Philadelphia, with seating capacity of over 4,000. The Met has been part of Philadelphia's architectural and cultural history since 1908, when it was originally developed by Oscar Hammerstein I. Throughout the current renovation process, Blumenfeld has remained committed to preserving The Met's original beauty by restoring original moldings and preserving its high ceiling that will result in a superior entertainment experience.
The Met will be the latest addition to the revitalization of North Broad Street, which includes venues such as Osteria, Marc Vetri's award-winning restaurant; Vie, the French-inspired banquet hall; Mural Lofts; 640 Lofts, and the iconic Divine Lorraine, all of which have also been developed by Blumenfeld.
"That corridor was such a long stretch of greatly underutilized and abandoned buildings, but buildings deserving of being repurposed," Blumenfeld said. "D2 has been integral in working with us to develop capital market strategies for several of our projects along North Broad."
"Our team was able to identify and structure financing that will enable EB Realty Management to complete this incredible historic revitalization," said Keith Delaney, President of D2. "We are proud to have contributed in some way to this great project, which is a true catalyst for continued growth of the North Broad neighborhood."
ABOUT D2
D2 Organization is a real estate development, investment, and transaction advisory firm. D2 specializes in the development of real estate and capital strategies on the most complex real estate-related transactions. For more information, please visit www.d2organization.com.