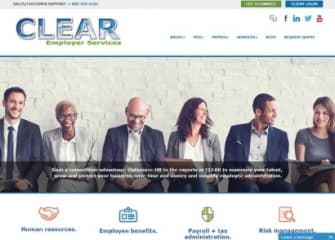 LANGHORNE, Pa.--(BUSINESS WIRE)--CLEAR Employer Services, a fast-growing and innovative PEO based in Langhorne, PA has acquired New Jersey-based veteran PEO TeamLink HR. The transaction increases CLEAR's revenues by 30 percent and adds Florida to the company's geographic footprint of New York, New Jersey and Pennsylvania.
In 2016, its first full year of operations, CLEAR increased revenues by 213%. It also grew from 10 to 25 employees and from one to four offices.
CLEAR's growth is good news for small business owners. "The more we grow, the more we can educate the business community about how PEOs are a friend to small business. When owners outsource HR, payroll, benefits, and more to a PEO, they can focus on their core business. That's because they have someone in their corner, staying on top of government regulations, navigating the ACA and medical insurance, reducing the risk of employee lawsuits and more," says CLEAR founder Joe Carfagno.
According to Carfagno, this is the first of many acquisitions. "When we acquire, we scale so customers don't experience any unnecessary changes. Everything is the same, including their staff.
Our 2016 customer retention rate was 95%. That's because at CLEAR, service is a fundamental."
"It's very rare for a small PEO to buy a like-sized competitor," says Rodney Steele, CEO of Dinsmore Steele, the largest PEO broker in the U.S. "It's always large corporations buying up small PEOs. An acquisition like this is great for competition and great for our industry."
The what and why of PEOs
According to the National Association of Professional Employer Organizations, small businesses can grow seven to nine percent faster, experience 10 – 14 percent less turnover and are 50 percent less likely to fail when they use a PEO. On average, they also save 21 percent on the cost of HR administration.
CLEAR and TeamLink HR
The acquisition of TeamLink HR increases CLEAR's worksite employees by 50 percent. It also provides clients with industry-leading service, the latest HR platform and tools and employee benefits from top providers including Empire BlueCross BlueShield, Allstate, Delta Dental, VSP, Transamerica and UNUM.
"Our success was built on superior customer service," said George Ditzler, who founded TeamLink HR in 1997. "It was important to sell to a like-minded entrepreneur, someone who is trustworthy and has an experienced and capable leadership team and staff."
About CLEAR
CLEAR Employer Services is an enterprise finely-tuned to provide small businesses and non-profits with outstanding customer service, transparency and value. The company offers a full suite of HR outsourcing solutions including PEO, HRO, ASO and payroll. Founded in 2015, CLEAR has offices in four states and services clients with employees throughout the United States. For more information, visit www.clearemployerservices.com.